Welkom bij Favorite Friday!
Vanaf deze week ga ik elke vrijdag wat meer aandacht besteden aan een favoriet product wat op de retired list staat en ons helaas gaat verlaten.
Je kunt het bestellen tot eind mei 2018 of zolang de voorraad strekt, dus mocht het ook jouw favoriete product zijn…..wacht niet te lang met bestellen!
Vandaag is mijn favoriete product het Petal Passion Designer Series Paper, dit DSP staat in de voorjaarscatalogus en heeft prachtige motieven, het mooiste is dat het zwart-wit is zodat je extra veel mogelijkheden hebt. Verwerk het zoals het is òf geef het een kleurtje met je Sponge Dauber, Stamping Sponges, Sponge Brayers, Stampin Blends of Watercolor Pencils. Zoveel mogelijkheden!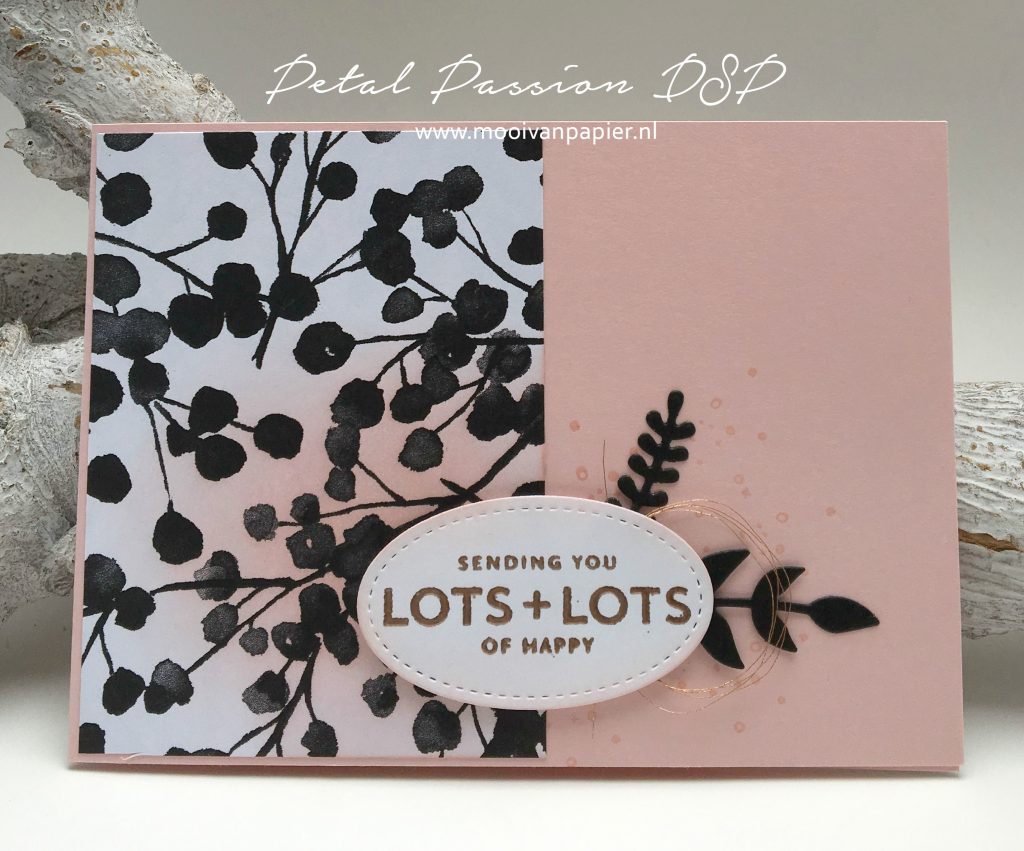 Voor deze kaart heb ik een strookje DSP afgesneden en gesponst met Powder Pink, op een kaartbasis van dezelfde kleur geplakt en nog wat spettertjes gestempeld met dezelfde kleur. Deze mooie kleur blijft nog een jaar want het is een InColor 2017-2019.
Het label heb ik gemaakt met een ovaal uit de Stitched Shapes Framelits en de tekst met Versamark gestempeld, daarna met de Copper Embossing Powder geëmbosd. Gelukkig komen deze artikelen ook terug in de nieuwe jaarcatalogus 🙂
De blaadjes zijn van Basic Black CS en gestanst met de Bouquet Bunch Framelits, ook deze komen terug in de nieuwe catalogus. Achter het label zit ook nog Copper Metallic Thread.
Ik heb nog een variatie gemaakt met Calypso Coral.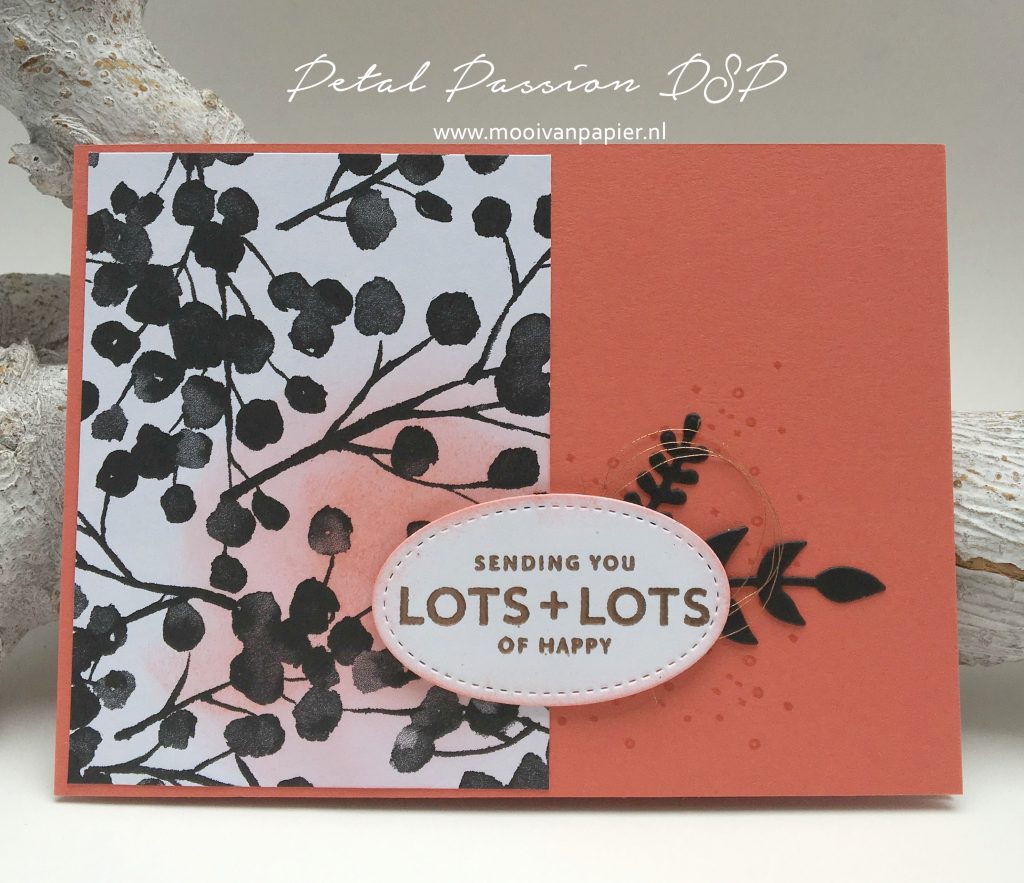 Daarnaast had ik nog een variatie met het Whole Lot of Lovely DSP gemaakt. Ook dit DSP staat op de retired list, in een pak zitten vellen met gekleurde motieven maar ook met monochrome motieven. Ik heb het eigenlijk nog maar net ontdekt, maar ook dit hele pak is prachtig.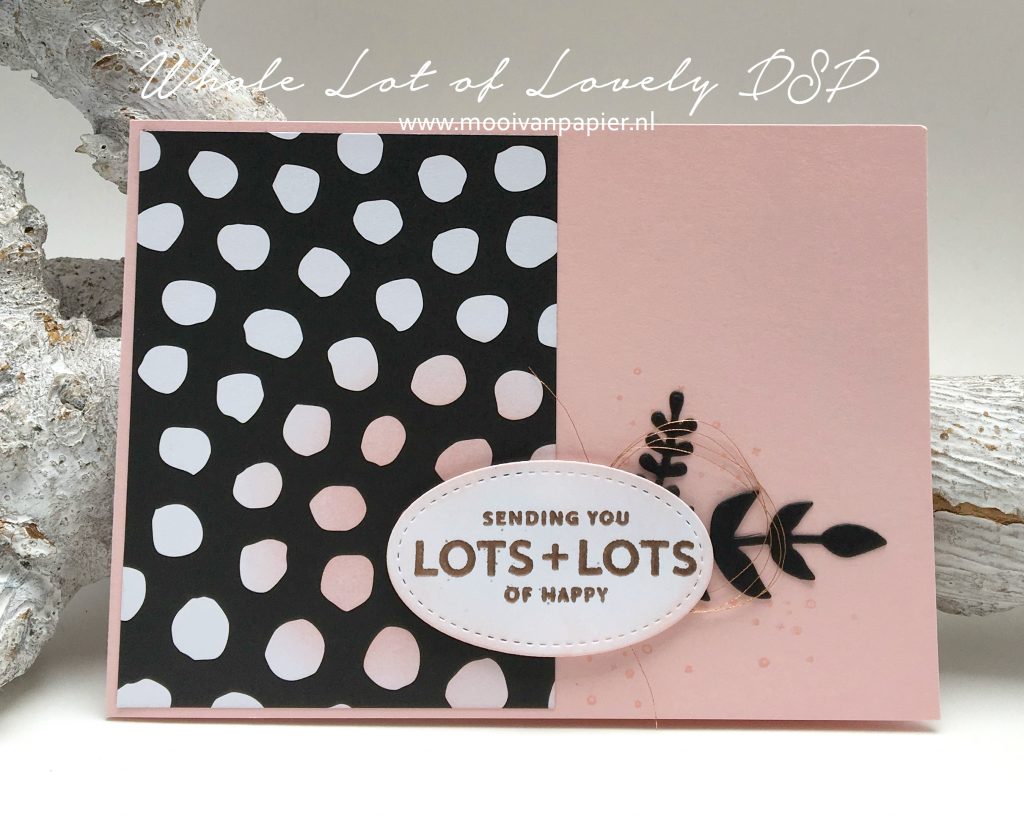 Een hele set kaarten maak je zo relatief snel en kun je heel erg leuk kado doen als je het verpakt in zo'n mooie Acetate Cardbox. Even opleuken met een gezellig labeltje in stijl en klaar! Ook deze geweldige Acetate Cardbox komt gelukkig weer terug in de nieuwe catalogus.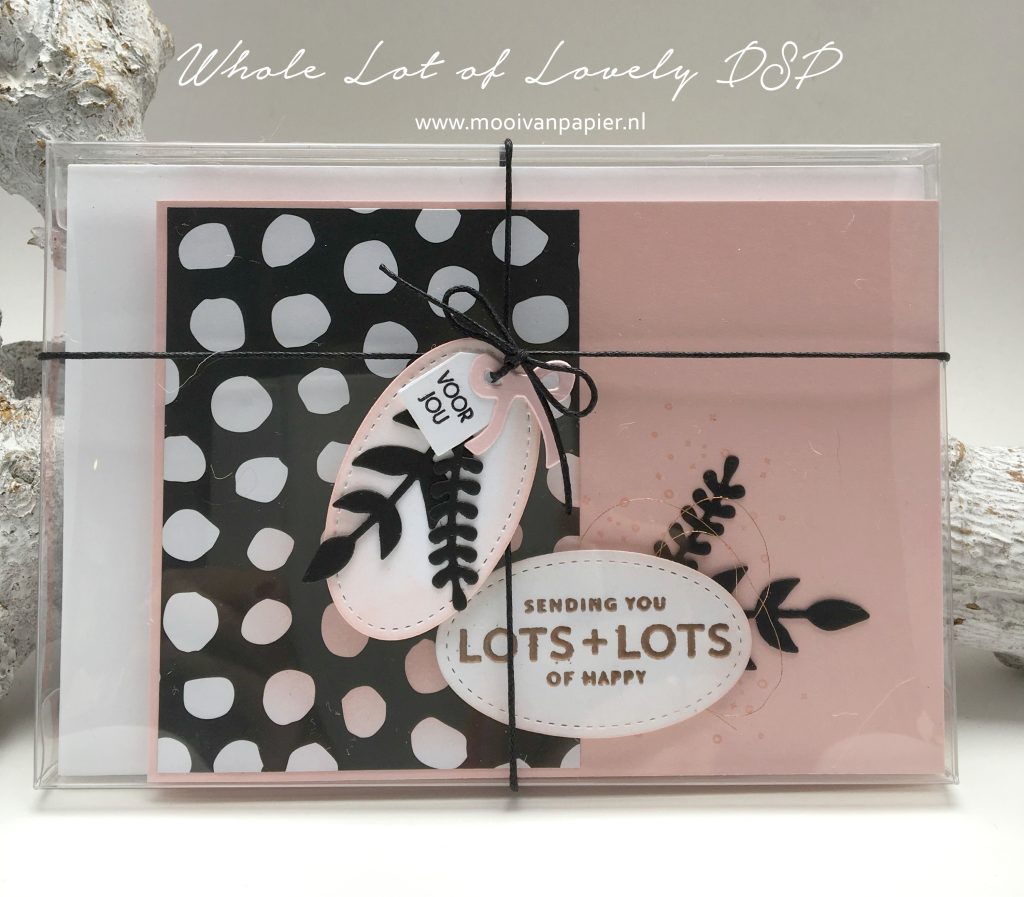 Wil je nog een pak Designer Series Papier van de retired list bestellen, wacht dan niet te lang en stuur me een mailtje: anne-marie@mooivanpapier.nl. Bij de meeste pakken DSP zijn ook bijpassende kleuren Cardstock pakketten te krijgen, hierin zitten 3 x 8 vellen, ook deze gaan uit de collectie.
Geniet nog even van het mooie weer, want volgende week is het al weer voorbij…..

Product List